Oct 18, 2021
In this newsletter, we are profiling Dash [DASH]. In previous newsletters, we have profiled Bitcoin, Cardano, Stablecoins, Uniswap and many others. Access all our newsletters in our archives at madcapx.substack.com.
The Short of It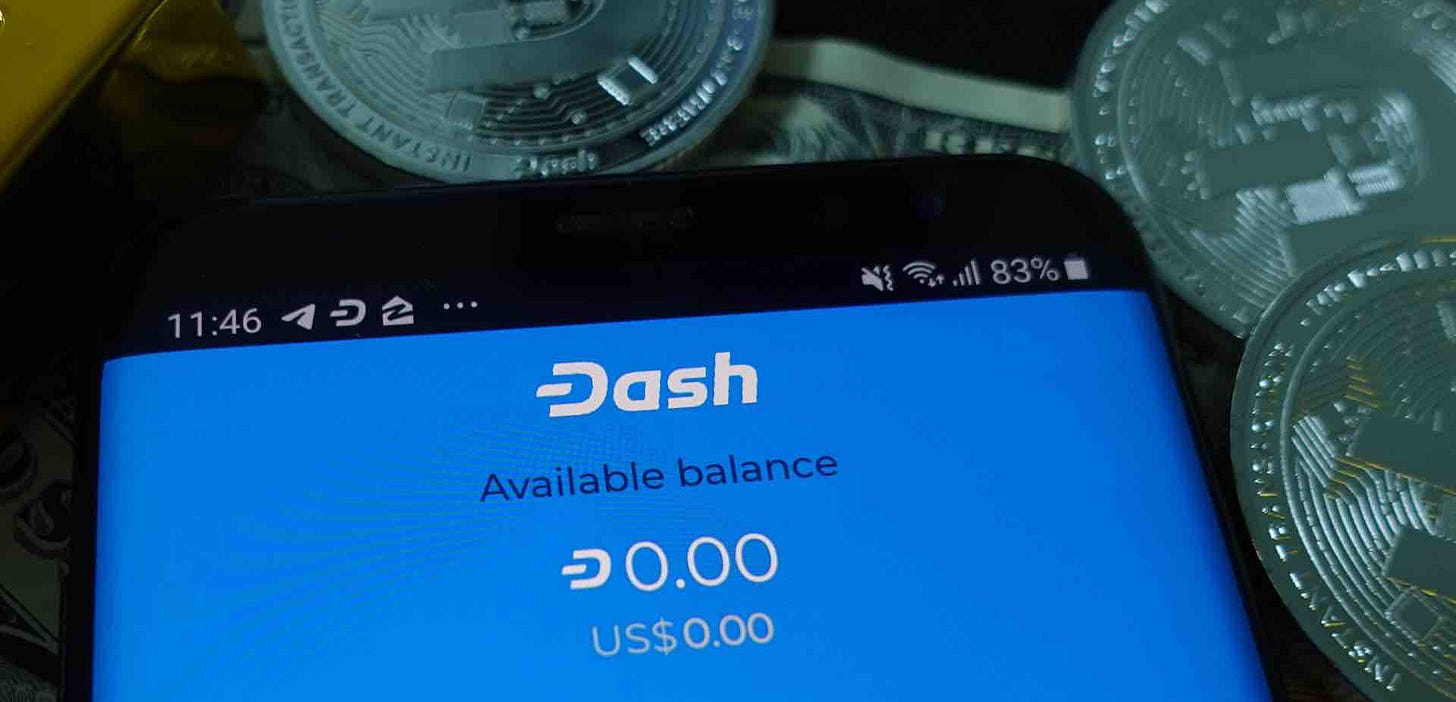 Dash is one of the older crypto currencies with most of the excitement happening in 2017. Since than it has been fading as an asset worth owning. Will the new possible release of their smart contracts to mainnet bring that excitement back or are they late to the party?
---
Profiling
Dash was created as a fork of Litecoin in 2014 by developers Evan Duffield and Kyle Hagan. They implemented an enhanced Proof-of-Work consensus mechanism as well as the new concept of Masternodes. It is designed to serve as "Digital Cash," hence the name. Along with almost instant transactions and minimal transfer fees, the hope was to gain dominance in the cryptocurrency payments arena.
Dash has a maximum supply of almost 19 million and has a decaying inflation rate expected to reach zero in 2150. It could handle up to 56 transactions per second, which was considered quite good in earlier days.
At the time of creation, the Proof-of-Work hardware wars were in full swing, and people wanted something that would limit mining to the use of personal computers to level the playing field. The X11 consensus mechanism was implemented, which utilizes eleven different mining algorithms to promote home computer mining and deter ASIC hardware (which had become utterly dominant for Bitcoin and Litecoin mining). The hash algorithms utilized in X11 are BLAKE, BLUE MIDNIGHT WISH, Grøstl, JH, Keccak, Skein, Luffa, CubeHash, SHAvite-3, SIMD, and ECHO. Although it was initially an ASIC-resistant system, there have been dedicated mining machines created, which have been available since 2017. Any Proof-of-Work network, once popular enough, will have somebody put in the effort to create dedicated hardware to mine it.
Various other new features were added, such as InstaSend (allowing nearly instant transactions), PrivateSend (allowing private transactions), and decentralized governance. These extra features were made possible by the implementation of MasterNodes. Anyone wanting to run a MasterNode just needed 1000 DASH to be held within the node wallet as well as having a dedicated IP address and being accessible 24/7. 45% of the block mining reward gets paid to masternodes on every block, which then gets distributed to MasterNodes.
With their app, DashDirect, they allow easy shopping and payment at over 150 thousand locations so far. Next year, they are planning on a more significant expansion campaign and hope to engage in heavy promotion and advertising as part of a community marketing strategy.
A few years ago, the "Dash Platform" (Evolution) testnet was launched, which allows their version of smart contracts to be deployed. The four main components are Dash Drive, a decentralized API (DAPI), Dash Platform Name Service (DPNS), and the Dash Platform Protocol (DPP). You can watch a video series on it by people from the Dash team by following this link. It will be interesting to see if they can launch this to their mainnet within the coming year, as it would undoubtedly provide a much-needed excitement boost.
Being one of the original direct Bitcoin competitors, Dash has managed to stay relevant and is still tradable on most large exchanges. We have yet to see if upcoming changes will push the ecosystem into the crypto mainstream once again.
---
Trend Lines
This first graph shows DASH against BTC going back to February 2014 on a monthly scale when it was at its all-time lows of 8000 satoshi and which price it opened at. From that low to all-time high there was an increase of 155,000% over a three year period. In early 2017 there was plenty of excitement around Dash and its masternodes.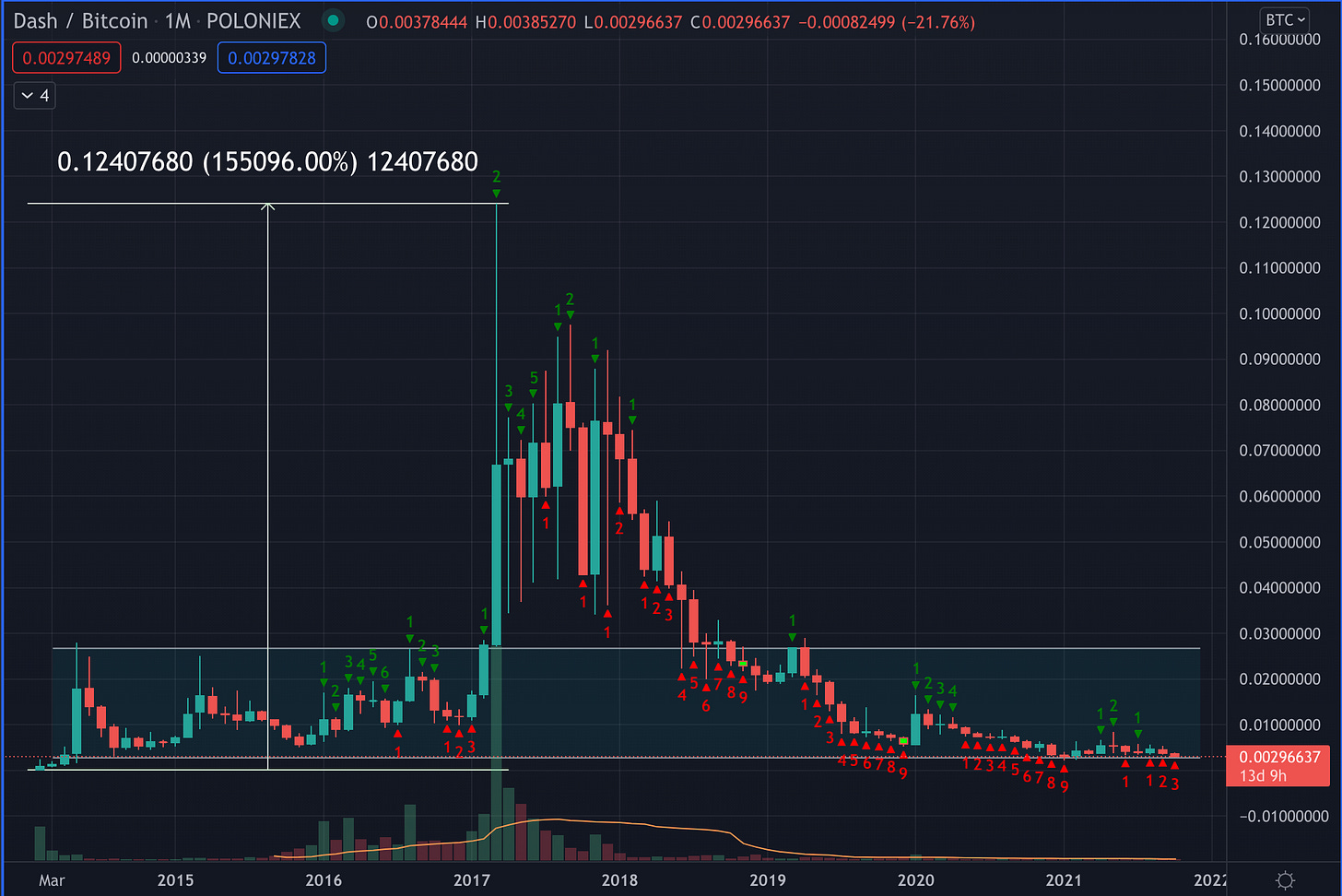 Since then, we seem to have come close to all-time lows when looking at this chart, but it would need to drop another 95% from here to get there.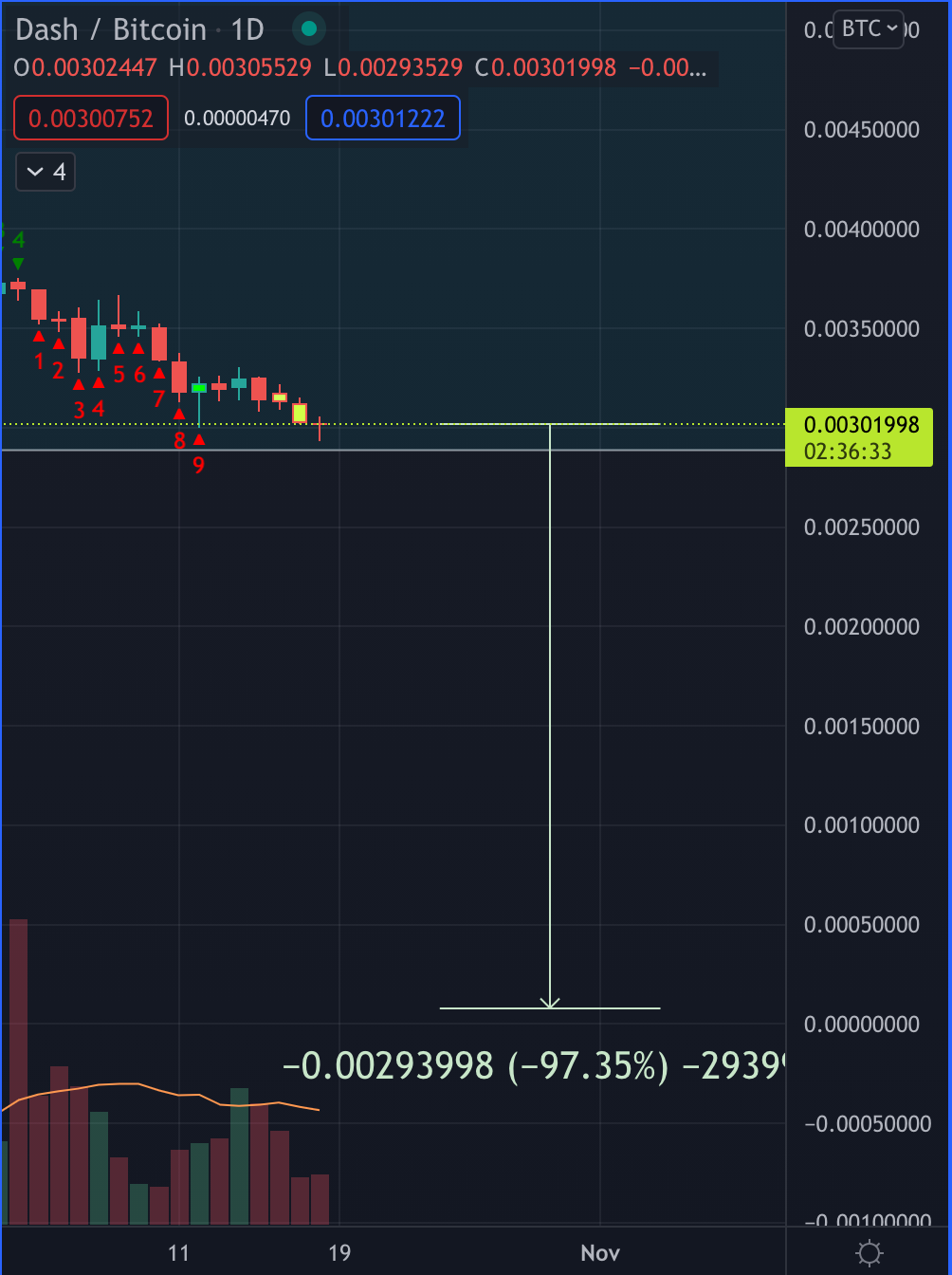 Over the past year, DASH/USD from lows to highs has had an increase of 1468%. Though it has been dipping in the short term, it continues to be in the upward trend with higher lows since early 2021.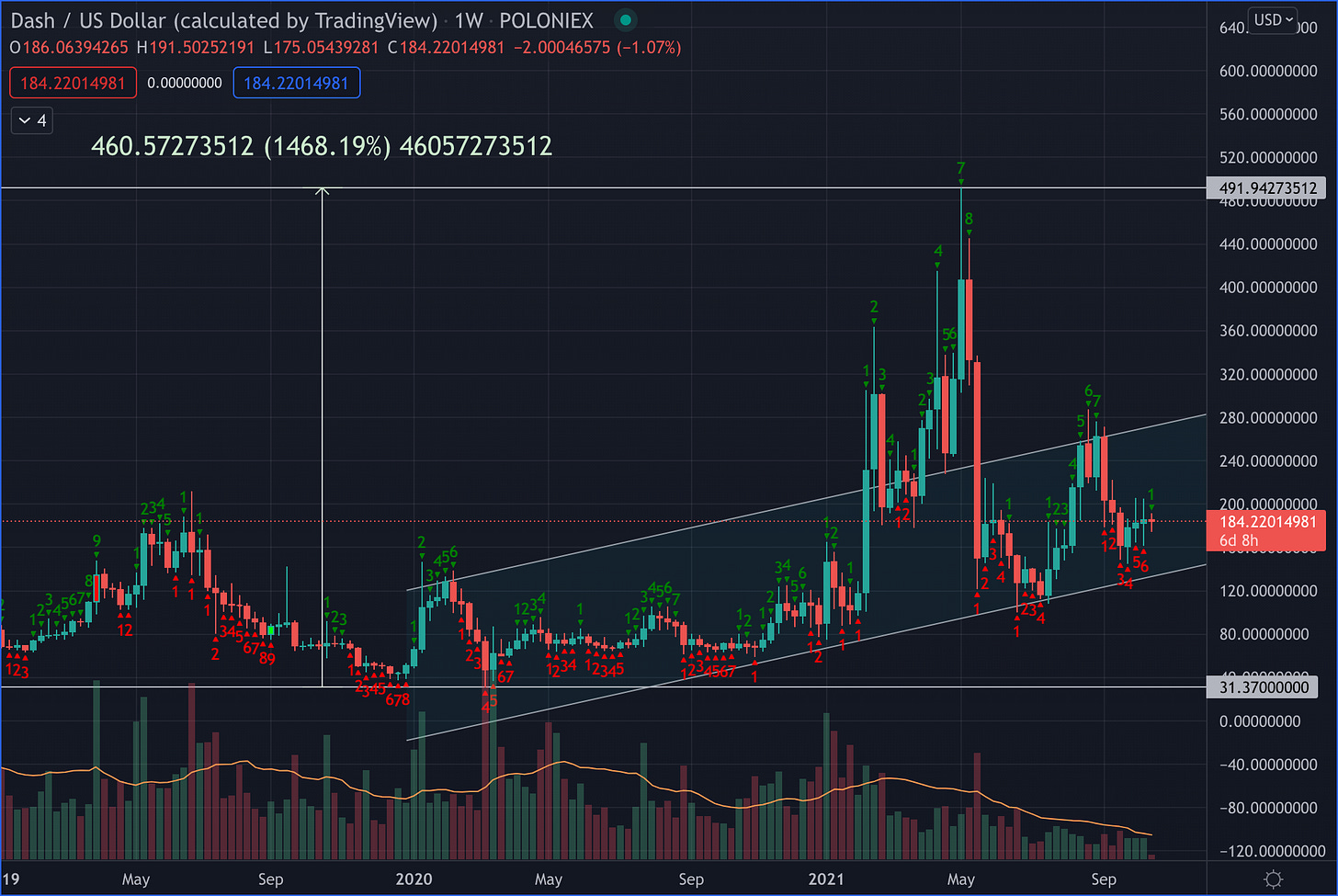 ---
The Other Trend Lines
Here are a couple of charts from TradingView related to Bitcoin.
In this first one, we see a pattern that has been happening over the 4-year cycles of Bitcoin. If it follows the previous path to the end of the bull run by mid to end of December 2021, Bitcoin will be going to $300,000 USD. Another 3-4 times higher than the current.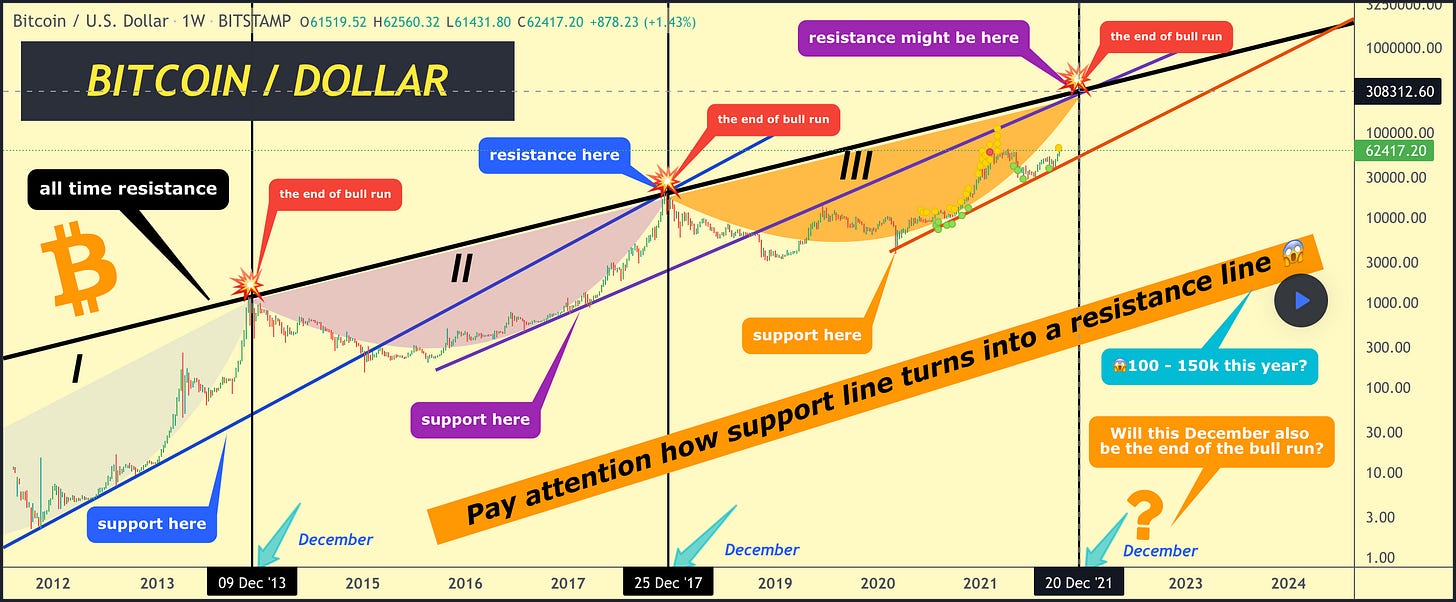 When looking at my chart now we can watch there how Bitcoin moved on with the breakout above the upper-boundary and advanced further in this area. Now as Bitcoin approaches the local resistance a pullback from there on has a higher likelihood, once this pullback has completed it will be important on how Bitcoin approaches the levels in the structure mainly the confirmational-bounce-cluster that is marked in blue in my chart. In this cluster several supports coming together such as the horizontal support, the upper-boundary of the ascending-channel and the 20-EMA , this level is important to hold and bounce off and when Bitcoin shows up with it this will lead to the origin-formation to complete a new all-time-high .

Taking all these factors into consideration there is good potential to consider a confirmational formation above the upper boundary here which can take the shape of a bull-flag or a triangle-formation, once this formation completed and bullish continuations show up it will lead to the breakout into the new all-time-high . In this case it is necessary that Bitcoin really shows up with the bullishness and does not increase bearish signs that can invalidate the formation and lead to a pullback again. As always it is pivotal to await the final confirmations before moving into a proper direction rather than over-speculating the market into a one-sighted direction and rushing into trades that do not satisfy.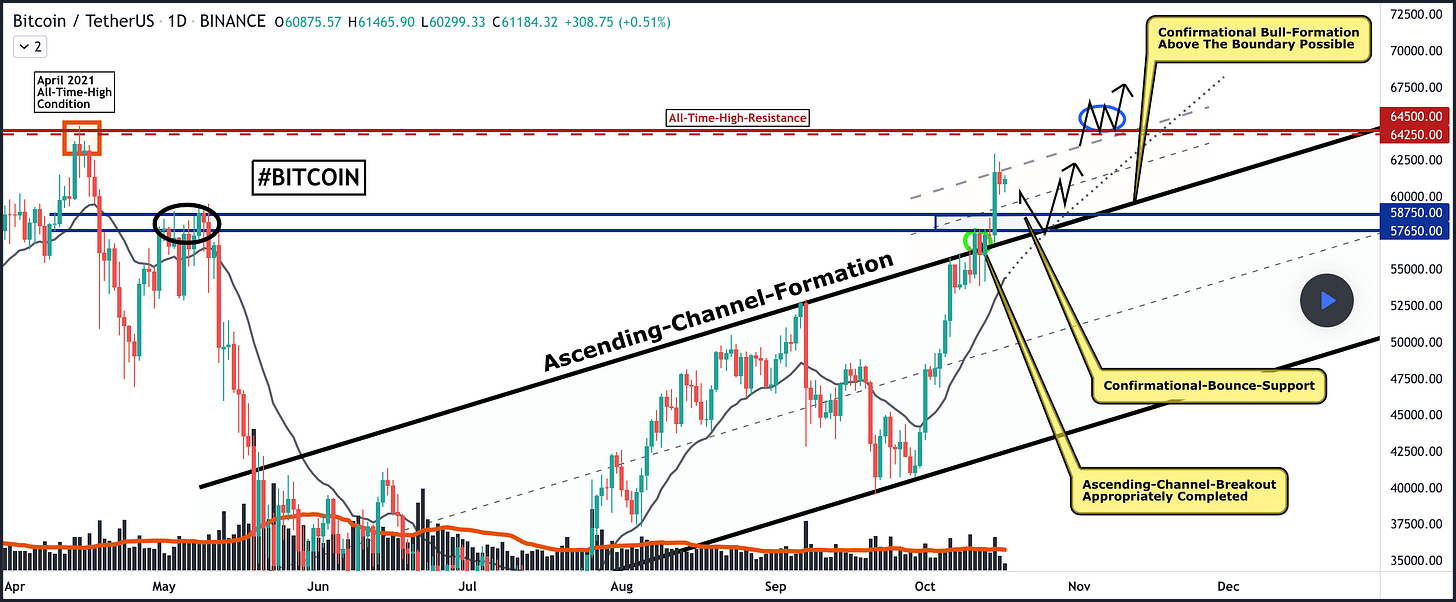 ---
Portfolios
This portfolio section gives you an idea of what sort of return you can get when investing in crypto assets.

BTC/USD FUND is up 473% since October 1st, 2020. Since this is a long-term holding, it is best kept in cold wallet storage or a safe custody solution. We continue to see a long-term hold position as our best stable alternative. This past week bitcoin has been ranging between $53,880 and $62,933 USD in value.

FUND 3 started on November 16, 2020, with $1000 USD in value and was invested into BTC, LTC, ETH, and ADA. The total amount of BTC value from the four coins has had a gain of 94% since the start. The USD fund value is up 619% since the beginning. We will hold these positions to see how well it does against our BTC-only portfolio. LTC is down -30% against BTC. ETH is up 119% against BTC since the start. ADA has a gain of 444% against BTC and 1936% to USD.

BLWX Fund started on February 22, 2021. They all are assets we have profiled in the last few months, and we are interested in how they will perform in 2021 against BTC. BAT has a gain of 24% against BTC since the start; LINK is down -19%, WAVES is up 123%, XMR is down -3%. Overall, against BTC, the fund is up 25% and 41% against USD.
Overall, Bitcoin should be your first choice as an investment in crypto, though many digital assets can give you amazing gains if you manage your risk. As a long-term investor, we see it as our largest portfolio investment. If you are a day trader, there are many great assets to put on your watch list. Look through our previous newsletters to find some.
---
About
MadCapX research newsletter is written by the Madbyte Team. You can learn more about Madbyte and MadCapX on our websites.
Madbyte does have its own token called MADX on the Ethereum network and Madbyte on the Waves network. The two tokens are interchangeable on Madcapx.com.
---
Disclaimer: Nothing in this newsletter is intended to serve as financial advice. Therefore, do your own research and due diligence before applying any of the techniques highlighted in this post. Any risks or trades based on this newsletter are committed at your own risk.