In this newsletter, we are looking back at a few cryptos we have profiled in the past, such as Bitcoin, Ethereum, Terra Luna, Celsius and a few others. Access all our newsletters in our archives at madcapx.substack.com.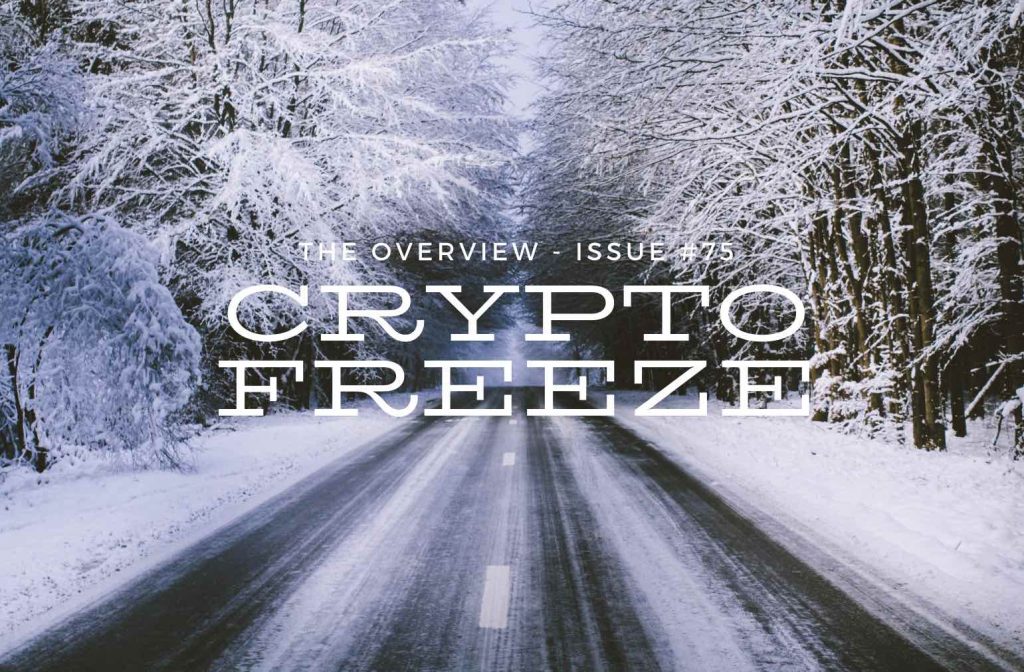 Profiling
Since October of 2020, we have been putting out these research newsletters on various cryptocurrency assets, and we feel it is time for a shift in the format. This issue will review some of the biggest crypto losers and a few that have mostly weathered the recent storms.
First, the biggest collapse of an entire crypto ecosystem happened in early May, seeing Terra's LUNA drop from all-time highs of over $100 USD to sub-penny values. Terra's USD stablecoin, UST, became depegged and dropped to pennies in value. This happened because of Terra's mechanism for attempting to keep UST stable by balancing it against LUNA. As large entities sold out of their positions on Terra assets, a death spiral of value began. The team attempted to halt it by pumping in Bitcoin, but since Bitcoin has gone down in value so much as well, it was not enough to stop the downward cycle. As a last-ditch effort, the Terra team launched a new LUNA token, with the original LUNA becoming LUNC (Luna Classic) and UST becoming USTC. The original tokens continue to stay at near-zero levels, while the new LUNA has not been fairing very well either. The future of Terra is uncertain at this point.
Next, we saw Celsius suspend its trading and withdrawals of all assets. The news broke on the evening of June 12th with an email sent to all clients blaming "extreme market conditions." Their token, CEL, crashed with the speculation of how bad the situation could be for Celsius. With all assets in the market being down and many clients trying to withdraw, a downward spiral started for Celsius. It was felt that the only way to prevent a complete collapse was to stop all activity until a solution could be worked out. As of today, there has been mostly silence on any definite plans or if clients will ever be able to get access to their assets again. This could be a massive blow for the entire community as so many put their faith and trust (along with their assets) into Celsius in hopes of long-term holding gains.
Finally, while Solana's coin, SOL, has not decreased in value as much as some other big ecosystem assets, the blockchain has suffered numerous attacks and breakdowns in recent months, leading to halts of the chain. This has caused many to lose faith in their technology. Solana also has relatively poor node infrastructure, improper handling of archival node information, and unaudited node software. Can they remedy these issues, or are they headed for an eventual cliff of disaster?
Bitcoin, while it has dropped in value quite remarkably in the last few months, continues to be one of the safer bets in crypto. The technology is still solid, and the financial world has begun to take it seriously. Ethereum is still the leader in the vast realm of smart contract-driven coins, but again, that has not stopped its value from taking a huge hit. Binance's BNB and BSC continue to do rather well in usage and uptake when compared with other smart contract ecosystems. In terms of stablecoins, while Terra's UST was dying, Tether (USDT) depegged slightly, and Tron's USDD wobbled even more; but others like USDC and TrueUSD retained their peg exceptionally well.
Moving forward, we will not be looking at individual assets in this newsletter anymore but instead will focus on more general crypto topics. We may occasionally have issues about new and exciting assets when they come up. Still, most will try to stick with crypto-related topics that we hope you, our readers, will find interesting and informative.
---
Trend Lines
This first graph shows LUNA/USD losing all value from a high of $119.44 down to $0.00005. The massive amount of trading volume lasted for six weeks.
As LUNA dropped under $1 on May 11, 2022, there was that hope that it had hit bottom at $0.56. It pushed all the way back to $5.40 and up 826% before continuing down into nothingness.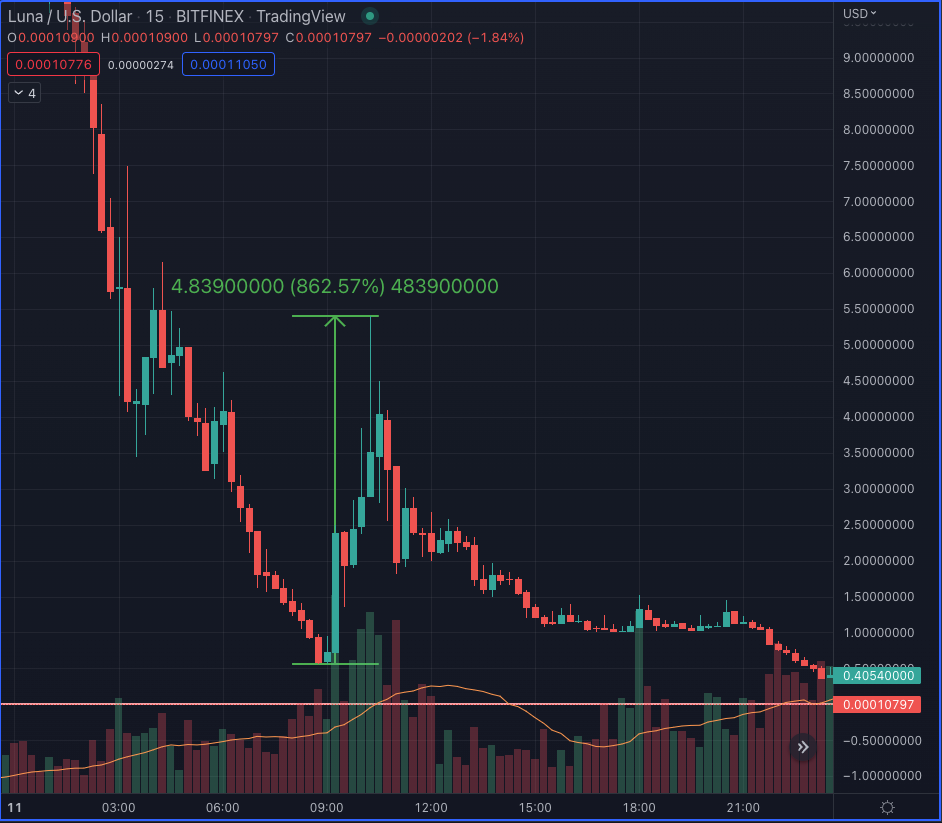 The CEL token shows a lot more gradual trend down. The highs reached $8 in March 2021, with a downward trend starting in June 2021. Mid-June 2022, CEL hit a bottom of $0.09, down 99% from the highs.
As CEL bottomed at $0.09 on June 12, it had a crazy pop upwards to $2.57 for a gain of 2755%. Within two days, CEL touched the bottom and top of the trendline. A week later, social media had a CEL army pump it for another 255%.
LUNA went down a cliff quickly; CEL, on the other hand, had been rolling down a hill for a whole year. At the moment, CEL is at the bottom of a short-term trend line and a squeeze from the top.
There are so many ways to consider the next move. If BTC has further downward movement right now, we could expect CEL to break down also. If Celsius Network has more bad news, or another crypto fund, exchange or defi crash, CEL could also find a new lower ledge to hang out quite quickly. On the positive, if BTC pumps, Celsius has good news, or the CEL army finds reason to pump the token, we could see a break upwards.
Celsius is on thin ice but maybe the crypto freeze, though negative, gives thicker ice underneath, maybe from Simon Dixon or some other unknown person or fund.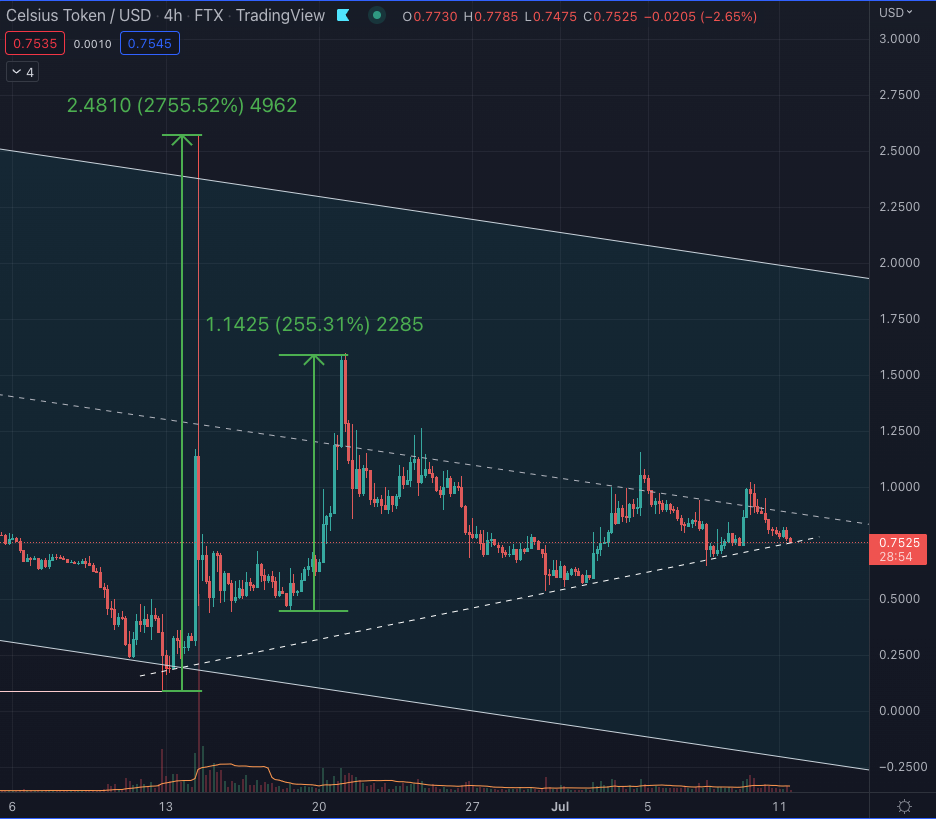 Bitcoin has massive bottom and top trend lines going back from the lows in March 2020 to the highs in November 2021. We can see how BTC has been hovering around this $20,000 area for almost a month. $20,000 was the low that was told by several that could happen, and if it did, they would sell everything to buy more. But that is not the case. There seems to be so much uncertainty in the markets that many are holding onto those dollars, waiting for a more severe capitulation to happen that creates a bigger bottom wick.
The blue bar in the graphic below gives you an idea of where many consider good support to be. The lows are in the $13,000s. It doesn't need to go that low but seems to be a good place for support.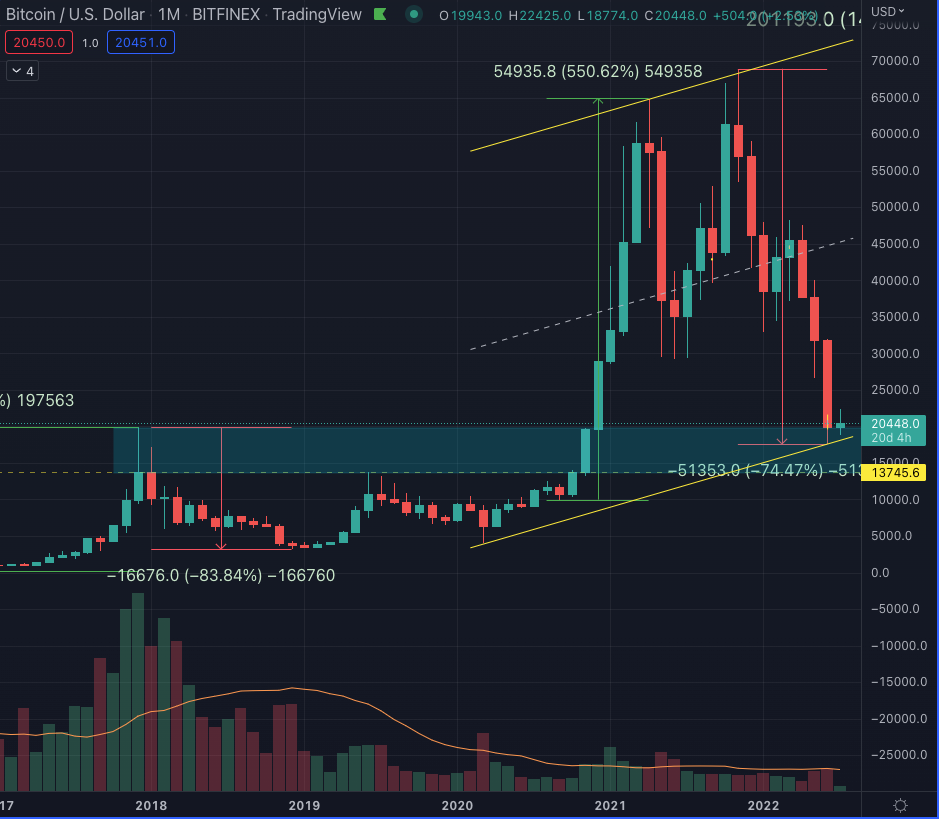 ---
About
MadCapX research newsletter is written by the Madbyte Team. You can learn more about Madbyte and MadCapX on our websites.
Madbyte does have its own token called MADX on the Fantom and Ethereum networks and under the symbol Madbyte on the Waves network. The tokens are interchangeable on Madcapx.com.
---
Disclaimer: Nothing in this newsletter is intended to serve as financial advice. Therefore, do your own research and due diligence before applying any of the techniques highlighted in this post. Any risks or trades based on this newsletter are committed at your own risk.